Learn more about Quik•Grade by watching this video
Finally, a grade rod everyone can use.
Designed with average construction worker in mind.

Efficiently and accurately determine elevations.

Minimal training required.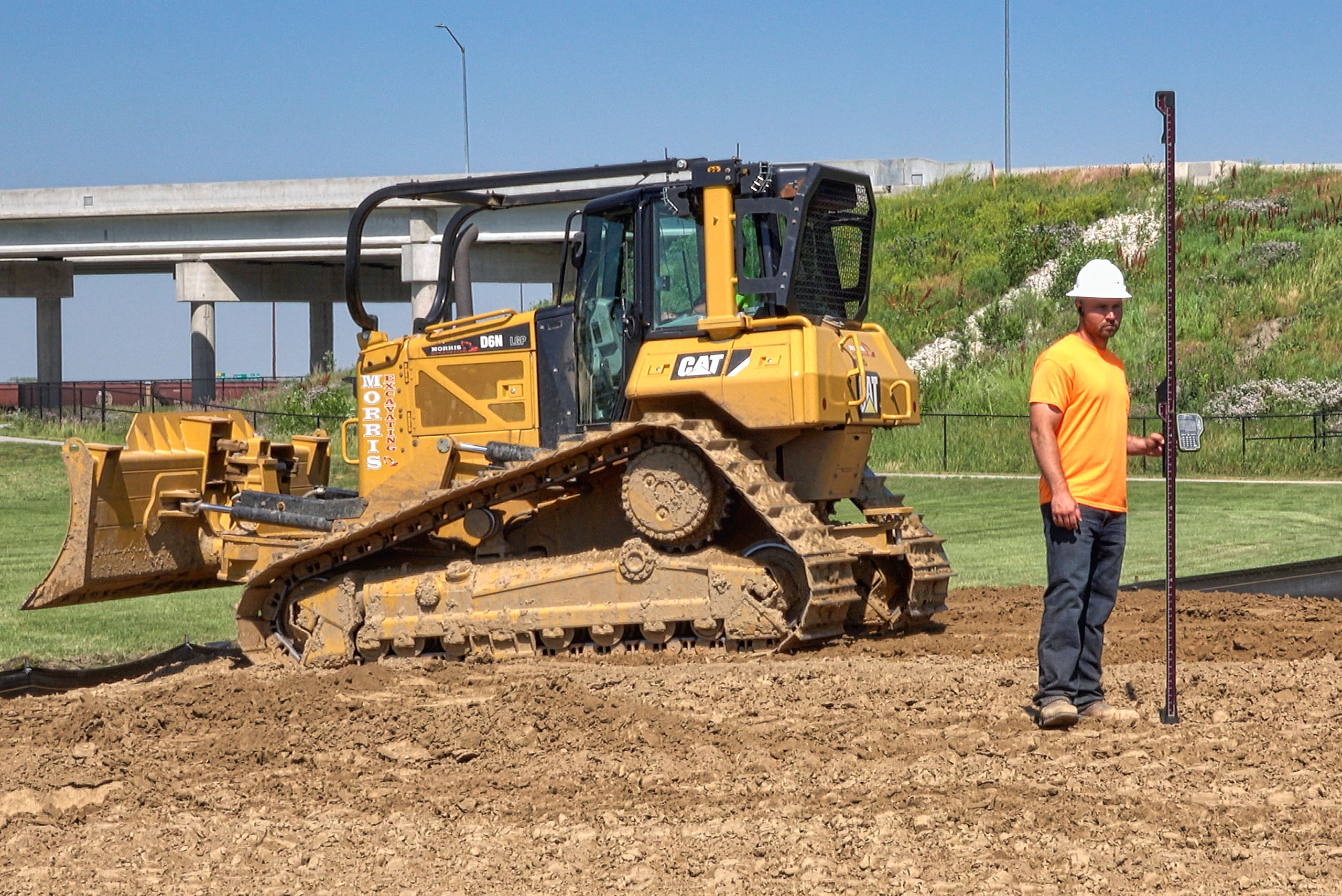 Quik•Grade is the smart grade rod that eliminates human error and manual calculations, saving you time and money.
Quik•Grade has sensors along the entire length to detect the laser beam. Simply turn on your laser and set your Quik•Grade to the benchmark elevation labeled on your blueprint.
Move your smart rod up and down and it will tell you the exact elevation to the nearest hundredth of a foot. You can also set a target elevation and it will tell you how much to cut or fill. The bottom of the rod is waterproof up to 3 feet.
Additional 4.5 ft sections can be purchased to connect to the top of the rod. Quik•Grade comes with two durable lithium ion rechargeable batteries. It automatically goes to sleep after 30 seconds when laid flat to conserve battery life and will remember where you left off when you pick it up again.
Transits and laser levels have been utilized in construction for years. They require expertise and experience. With the current technology, mistakes in elevation calculations occur often.
Quik•Grade developer Buck Morris sees these struggles daily. "In our excavating business, I'm unable to send workers to a job without mistakes in elevation calculations.  Even good operators have difficulty the first time. Most workers rely on surveyors to perform this work. Surveyors are not always available, and they are more expensive than a typical worker."
The advent of the laser level sped up the construction industry by performing the work of a transit, but with one man instead of two. Laser levels are a great tool for those with adequate experience.  For those without experience (or those who are math-challenged), mistakes will occur, and these mistakes lead to lost profits.
As a simple example, if you dig building footings, and your calculations are just 1' off, that mistake
can cost your company a great deal of time and money. This type of mistake can easily cost ten-thousand dollars. Buck sees these types of mistakes being made on almost every job. "Either the surveyor is wrong, or the engineer is wrong, or your guys in the field or wrong. With Quik•Grade, you easily catch these mistakes and stop them from happening altogether. And do it quickly."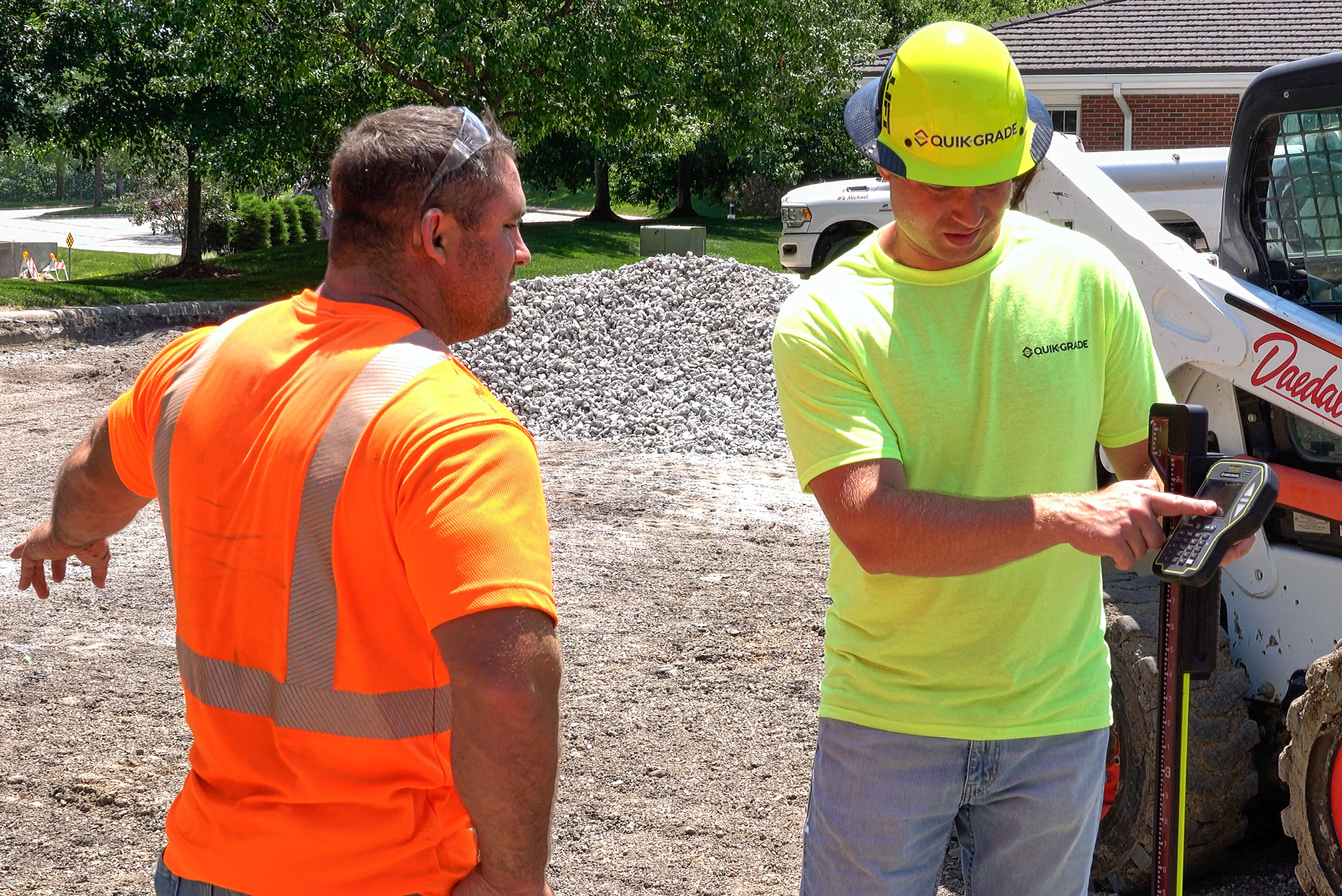 Quik•Grade – A proven solution!
We created Quik•Grade to eliminate grade level errors. We're proud to say we have accomplished the goal. In our field tests, we have realized improved measurement speeds that are 5-10 times faster than traditional laser level processes, while also reducing or eliminating error. The number of elevations our company can determine accurately has increased dramatically with this device.
Quik•Grade utilizes rotary laser level technology and reduces most of the human error involved in the measurement process.
The device reduces error by reducing user calculations, which would normally be required to determine elevations using a traditional grade rod.
The Quik•Grade grade rod is outfitted with many sensors so that the entire grade rod acts as receiver.
The output of these sensors is coupled to a control unit, allowing a user to visualize readings and control the rod and calculations being made.
A user can input a benchmark elevation (while measuring a laser signal at the benchmark elevation) and set a desired target elevation.
Then, the control unit will display one or more indicators (e.g., up/down arrows) to a user for rod height adjustment of the grade rod necessary to achieve the desired target elevation. More simply, the control unit will automatically tell a user whether to cut or fill at a specific location to achieve the desired target elevation.
Get Elevations Right The First Time – with Quik•Grade
Hello, I'm Buck Morris and I'm excited to present my new patent pending Quik•Grade to the construction industry.
I have been working on QUIK•GRADE for the last four years. We have developed multiple high-end prototypes and are nearing production.
The first of several patent applications is pending and my patent attorney has recently informed me that several of our claims have been identified as allowable, so an issued patent mapping to the above technological description is forthcoming.